Smart WiFi Alarm System: The ZDAS-S3W is ZudSec's latest wireless, integrated smart home and security gateway, combining butler- and guard-like functions. The ZudSec S3W offers intuitive on-site as well as remote smartphone operation of up to 50 connected but wireless, DIY-friendly, battery-powered devices, including sensors (door/window, intrusion/motion, water and more), Support lingkage camera for real-time view. Supprts to work with Google® assistant and Amazon® Alexa of S3W-enabled smart homes virtually limitless, all on one single app.
This Smart WiFi Alarm System is ideal for protecting homes, apartments or small businesses. The kit comes with a smart hub, one door/window sensor, and one remote control/fob. You can add optional wireless accessories as your needs evolve. The smart hub connects easily to your WiFi network; and when any sensor is triggered, you get notifications right away, so you are always in the know no matter where you are.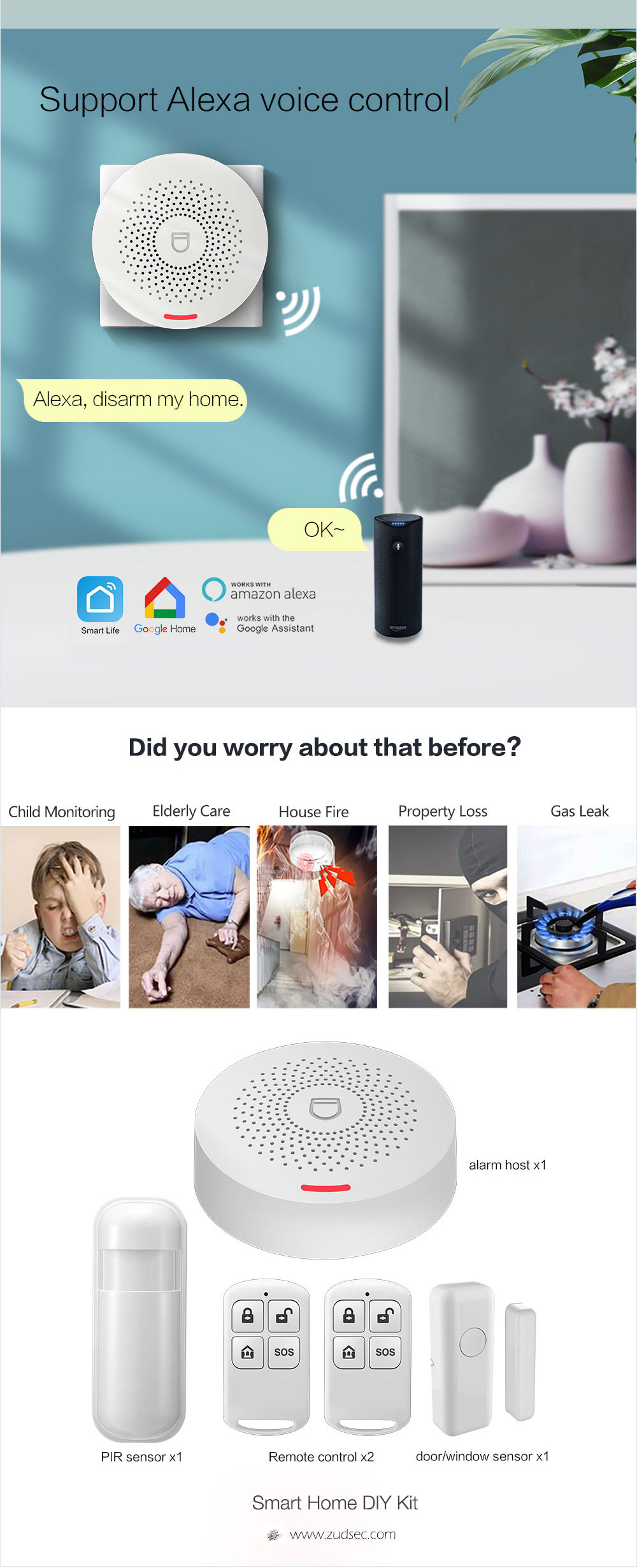 - Easy setup in minutes — without specialized tools or professional installers

- Real-time alerts on your smartphone when any detector is triggered
- Quick customizations for any residential/housing type
- Convenient control of the system and other smart devices in the free "Smart Life" app
- Direct compatibility with Amazon® Alexa and the Google® Assistant to arm, disarm, home arm the alarm system, just with your voice
- Intuitive sharing devices among family members
- DIY, Petite & Powerful

- No wiring needed, no telephone line needed, with backup battery
- Supports 50 Wireless sensors/ 4 Remotes
- Scheduled Arming & Disarming
- Work with IP camera
- Door bell function
Alarm communications: Transmitting alarming signal by Wifi network

Wireless frequency: Available in 315MHz/433MHz


Protection zone: 50 wireless zones

Working power voltage: Input: AC 110~220V 50-60Hz; Output: DC5V /1A
Standby power: <0.5W; Operation power: <6W;

Built-in Li-ion backup battery: 3.7V, 280mAh Lithium battery

Coding type: learning code

Wireless receiving distance in open place: >200m, indoor: 30~50m, (depend on the surrounding environment and wireless interference)

Alarm volume: internal :85dB, external siren: 110~120 dB

Wi-Fi System: 802.11b/g/n

Working temperature: -20 ~ 55°C ; Working Humidity: 40 ~80%

Product size: 79mm* 46mm
Package contents:
Optional Accessories: Wireless Smoke Detector, Wireless socket, Wireless Keypad,

Photoelectric Beam Sensors, Wireless shutter sensor, Wireless Emergency Button,
Wireless Repeater, External wired /wireless Siren etc.