ZigBee/WiFi Smart Curtain Motor: Smart WiFi Electric Motorized Splicing Curtain Tracks System, Flexible quiet design, Various controls, support with DIY Track & RF Remote, Smart Life APP Control, Voice Control With Alexa & Google Home.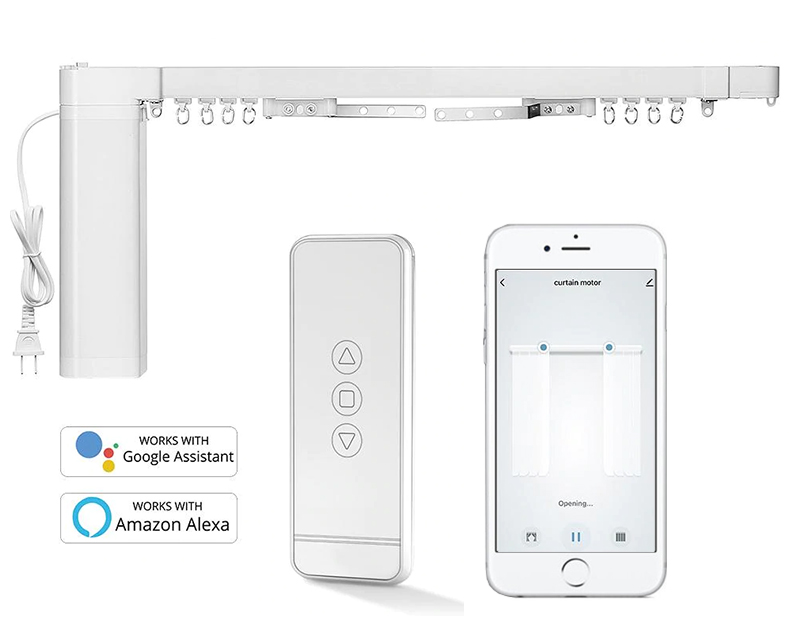 - Smart control via Smart Life App and easy voice control via Alexa and Google Home.Remotely control your connected devices no matter where you are;easily get the control of them via simple voice command. Even timer your schedule to control them in a preset time
- Bi-votage power supply(AC100~210V), awailable for global application
- DIY tracks with splicing available.
- Set the working schedule on your smart phone previously to allow your curtain to go up and down automatically with adjustable tracks.
- Built-in RF receiver allows another controlling way as portable RF remote and no hub required for normal use. Slide to side open and double open optional to install the motor in the right or left side to your own need.

- Stop at obstacle and memory the stop position: Smart reactions to resistance and self-protection.The curtain will stop automatically to protect the whole system while meeting any physical blocks. There is an intermediate position between close and open position that can be remembered and will slow down when the curtain approaching the stop position to protect the whole system.
- Manual Operationwith touch motion: Slightly pull the curtain to one direction by 10cm while the motor is energized, the motor will open or close automatically.
- Much easier pairing mode for adding the device with WiFi and Bluetooth connected