WiFi Garage Door Opener: Conveniently open & close your garage door by turning your existing WiFi network and garage door opener into an single integrated smart device that you can control and monitor from around the World. Activate your garage door opener either through simply tapping on the Smart Life app, or by giving voice commands to your Alexa or Google Assistant enabled devices, or by driving near your garage door.
ZDD-001S-WF Smart Life APP Remotely Control WiFi Garage Door Opener is a simple Wi-Fi based device which attached and connected to your existing garage door opener motor. It can detect your garage door or gate door's "open" or "close" status with provided high sensitive door sensor.

You can simply control your garage door or gate door by SmartLife App, Amazon Alexa or Google Assistant. It works perfectly with Amazon Echo and Google Home. you can use voice to control the garage /gate door OPEN/CLOSE. It is never as convenient as now you can.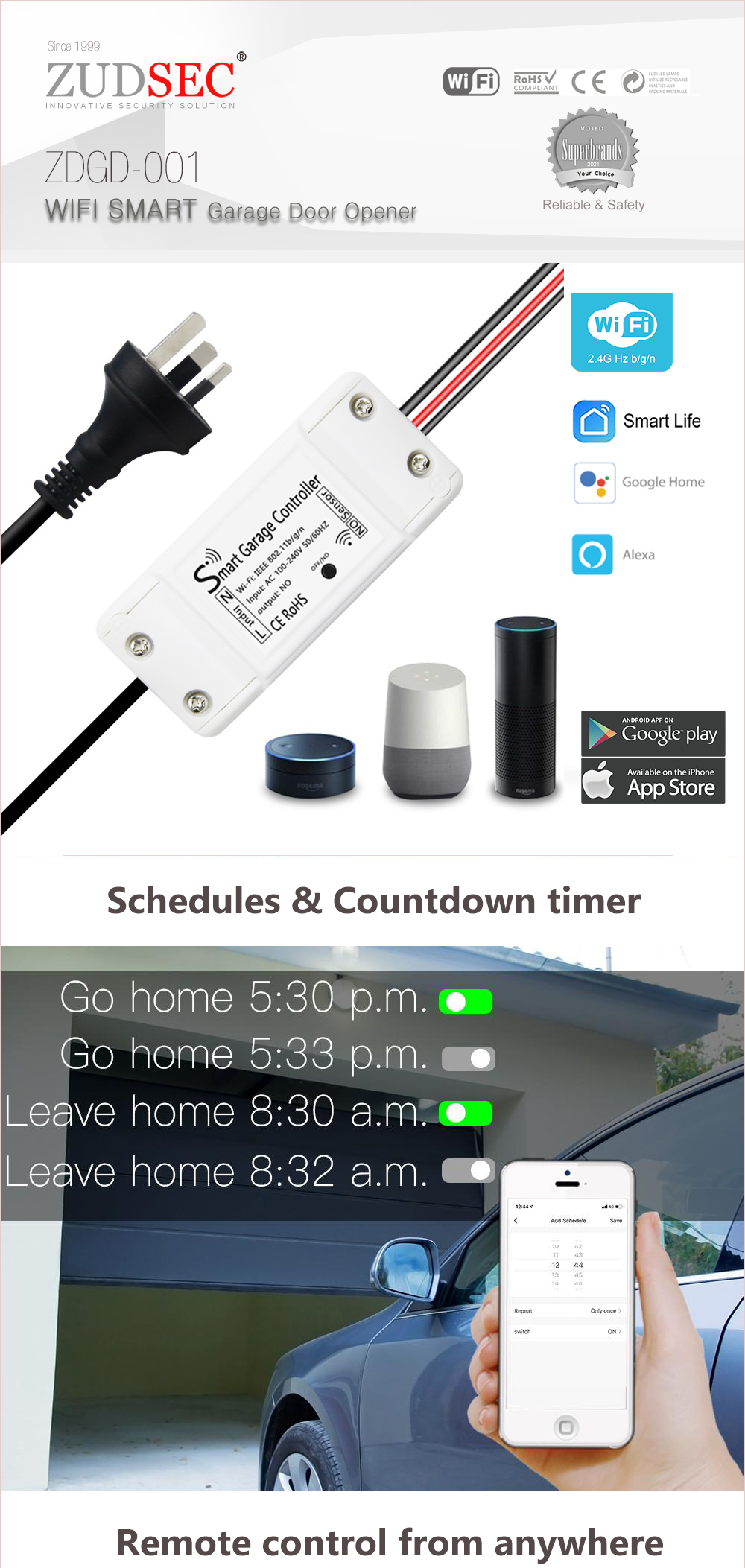 - Compatible with Amazon Alexa, Google Home and IFTTT - When used with Amazon Alexa or Google Assistant, the Smart Door Opener allows you to perform hands-free voice control at home. And use IFTTT to create a fully customized plan for you.
- Remote On/Off: Converts existing Wi-Fi networks and garage door openers into simple and linked smart devices. Now, just tap thesmartphone device to open and close the garage door.
- Easy to install. With a detailed installation guide, garage door controllers can be installed quickly and easily without the need for a professional. Make sure your wireless network is 2.4Ghz and its strength is acceptable near your garage door.
- Device sharing. Share your license with family and friends if you prefer. You can also cancel or withdraw any of them.
- History: To keep your home or garage safe, just look at the on and off history on your phone.
Function: Remote Open / Close by App

App Name: Smart Life

Wireless Standard: WiFi 2.4GHz IEEE802.11b/g/n

Power supply: AC100V-250V.50-60HZ

Product size: 85x40x20mm
Package size: 16*11*5cm; Gross Weight: 0.35kg,