GSM & PSTN Double Network Alarm System: The innovative ZUDSEC ZDAS-16CA-16G adopts the latest GSM & PSTN dual-net secure technology, Dual-net alarm system with GSM wireless network(with GSM as backup) plus PSTN wired telephone network, GSM / telephone auto switch. This system has 16 wired Zones and16 wireless zones, and it can be used with all kinds of ZUDSEC wired or wireless detectors; Both PSTN and GSM are compatible with ADEMCO Contact ID digital communication protocol.
The Integrated Dual-Net alarm systems from ZUDSEC are designed to meet and exceed the needs and expectations of professionals. This model is specially widely used for Residential /Commercial Project like Banking, ATM machines, jewelry shop, notebook house and etc where double protection on properties is required.
Working principle: GSM & PSTN Dual-Net Alarm System supports PSTN and GSM Double communication network. The user can plug the telephone line or not use telephone line. If have connected the PSTN wired telephone line with control panel, it will dial via the telephone line, and also send the SMS by the GSM SIM card while alarm. Otherwise, if not connected with telephone line, the control panel will auto-switch to dial out thru the built-in GSM module and send the SMS.
It means if any landline ( Telephone line ) is been cut by intruder or faulty, the system will auto-switch to gsm dialer to sent out the alarm signal and SMS to the house owner, policy and alarm receiving center.
Another Model ZDAS-16CA-8G: 16 Wireless zones+ 8 Wired Zones

- 16 Wired Zone + 16 Wireless Zone with microcomputer control, keypad programming and LED display.
- Dual-net alarm system with GSM wireless network plus PSTN wired telephone network,GSM / telephone auto switch.
- Transmitting alarming signal by PSTN dialling or GSM dialling
* With built-in GSM module and PSTN module.
* Using PSTN first, Automatic dialling by GSM network in case of wired network failure (PSTN cut).
- Alarm reporting through public telephone network to specific telephones, or to central monitoring stations in agreement with ADEMCO Contact ID.
- SMS & Voice reminder Dual alert mode.
* With Voice reminder for alarm receiving & Remote phone control, can hear which zone is alarming while alarm is activated(Optional function: with extra voice IC).
- Multi- Advanced programming: alarm sounds, zone types, recording, monitoring, remote controlling, phone line Check etc.
- Wired and wireless compatible function, can match with various wired or wireless accessories.
- Learning/Study code between detector and control panel.
- Support 2 groups 6 bits user passwords, 1 group 6 bits setting passwords are both adaptable;
- 6 groups of phone number and 1 group alarm center phone number could be set. When the alarm activated, it could repeat dialing the numbers.
- 5 ARM modes: EXIT ARM, BOUNDARY ARM, single zone ARM, delay ARM and remote ARM.
- 5 Dis-Arm modes: single zone DISARM, keypad password DISARM, long distance DISARM, remote setting DISARM, DISARM when connecting alarm.
- 5 zone modes: Instant zone, Delay zone, 24 hours zone, BOUNDARY zone and BY-PASS zone
- Remote monitor the voice of the scene; Exit & Entry dealy
- Built-in voice module, 10~20 seconds record, voice alarm function
- Advanced remote controlling: Arm/Dis-Arm,Emergency alarm and other operation via remote control by telephone.
- Anti-cutting telephone line: Telephone line Check function, anti-cutoff, anti-lightning strike.
- Support upmost 4 wired control keypad ,Long distance remote range, 150 meters in open air. Keypad multi-zone LED Display
- "Watch dog" function, to avoid system down.
- Backup DC 12V 7Ah Sealed lead-acid battery support work when AC power cut off. Can work 24H in case of no electricity supply
- Remote control of home appliances optional: add an extra relay with linked output is able to link video monitoring or other electrical appliances.
- Auto-reporting of AC power failure, low voltage of battery
- High speed digital communication, both PSTN and GSM are compatible with ADEMCO Contact ID digital communication protocol;
Alarm communications: Transmitting alarming signal by PSTN dialing and GSM dialing

Alarm communication protocol: ADEMCO Contact ID, 4+2

Number of zones: 16 wire + 16 wireless zones

Programming mode: Keypad Program, Remote Program

Arming/disarming mode: By remote controller, keypad,regional telephone remote control

Support GSM frequency: GSM850/900/1800/1900MHZ (Quad-Band)

Power supply: Input AC110V/220V+10% /Output: AC16.5V,2A
*Spare power supply: DC 12V 7Ah Sealed lead-acid battery(optional)
*Stand by consume current: ≤50mA; Alarm output current: 400mA, 12V
* Output voltage: DC12V~15V

Wireless receiver frequency: 315MHZ /433MHZ

Oscillation Resistance: 1.5MΩ /3.3MΩ /4.7MΩ optional

Working temperature: -10 ~ 55°C ; Working Humidity: 40 ~ 70%

Metal box size: 25.5×23.5×7CM; Keypad size: 16.5×11×3CM; Weight: 2.5kg/kit;
*Metal box : 10pcs/ctn, Carton Size: 29*43*53CM; Keypad : 108pcs/ctn, Carton Size: 29*43*53CM;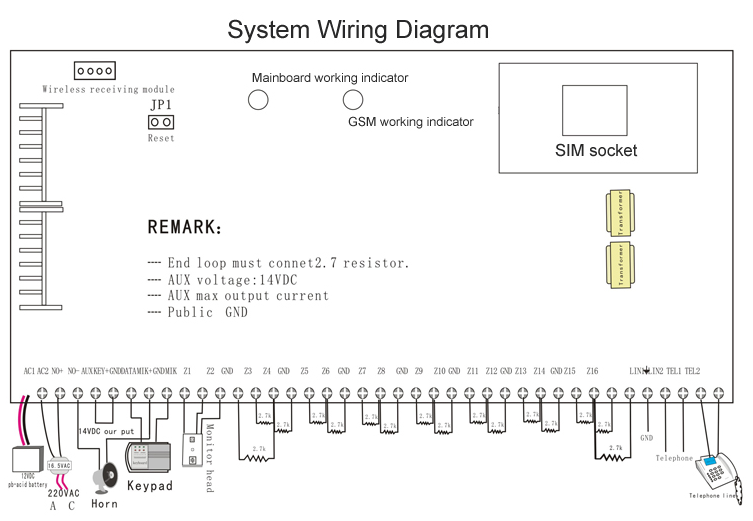 Optional Accessories: Wireless PIR Motion Detector, Wireless Door sensor, Wireless
Emergency Button, Wired PIR Motion Detector, Wired Smoke Detector, Wired Gas Leakage
Detector, Wired Photoelectric Beam Sensors, Wired Door Sensor,Wired External Siren,
Sound monitor etc.