7inch Sewer Pipeline Inspection Camera: With ZudSec ZDIC-701ATR camera system, you not only have everything you need to inspect waste water pipes, flue gas and ventilation lines as well as industrial systems – you can also precisely locate the damage and accurately document the results of the inspection. It can help you correctly identify plumbing and drain problems can save you time and money, and ensure that you won't have a bigger problem on your hands down the road.
The pipe inspection camera combines a camera-tipped probe with 7" LCD monitor for viewing hard-to-reach inspection area. The deluxe leather sun visor provides clear viewing in outdoor inspection and extra protection for the monitor. It comes with a fully padded case which stores all kits for easy transport and use. It eliminates the needs of tearing drywall to locate leaks and helps to solve pipe problems. It is a must have for any homeowner, contractor and even professional plumbers!
The Drain Sewer Pipeline Industrial Endoscope System with AHD1080P high-definition waterproof IP68 #304 stainless steel camera+tipped probe+145°wide viewing angle what make it clear when you inspect some places hard to watch. 12 pcs adjustable LEDs to illuminate the hard-to-reach inspection area. Inspections will be seen more clearly in the dark environment.
Applications:
- Blocked / slow draining plumbing.
- Wall / wire inspection.
- Home owners inspection.
(Repeated drain backups or clogs, Extremely slow drainage,Strange gurgling sounds from your washing machine, sinks or toilets, Foul odors coming from your yard or a depressed area in your lawn, Foul odors coming from your air vents)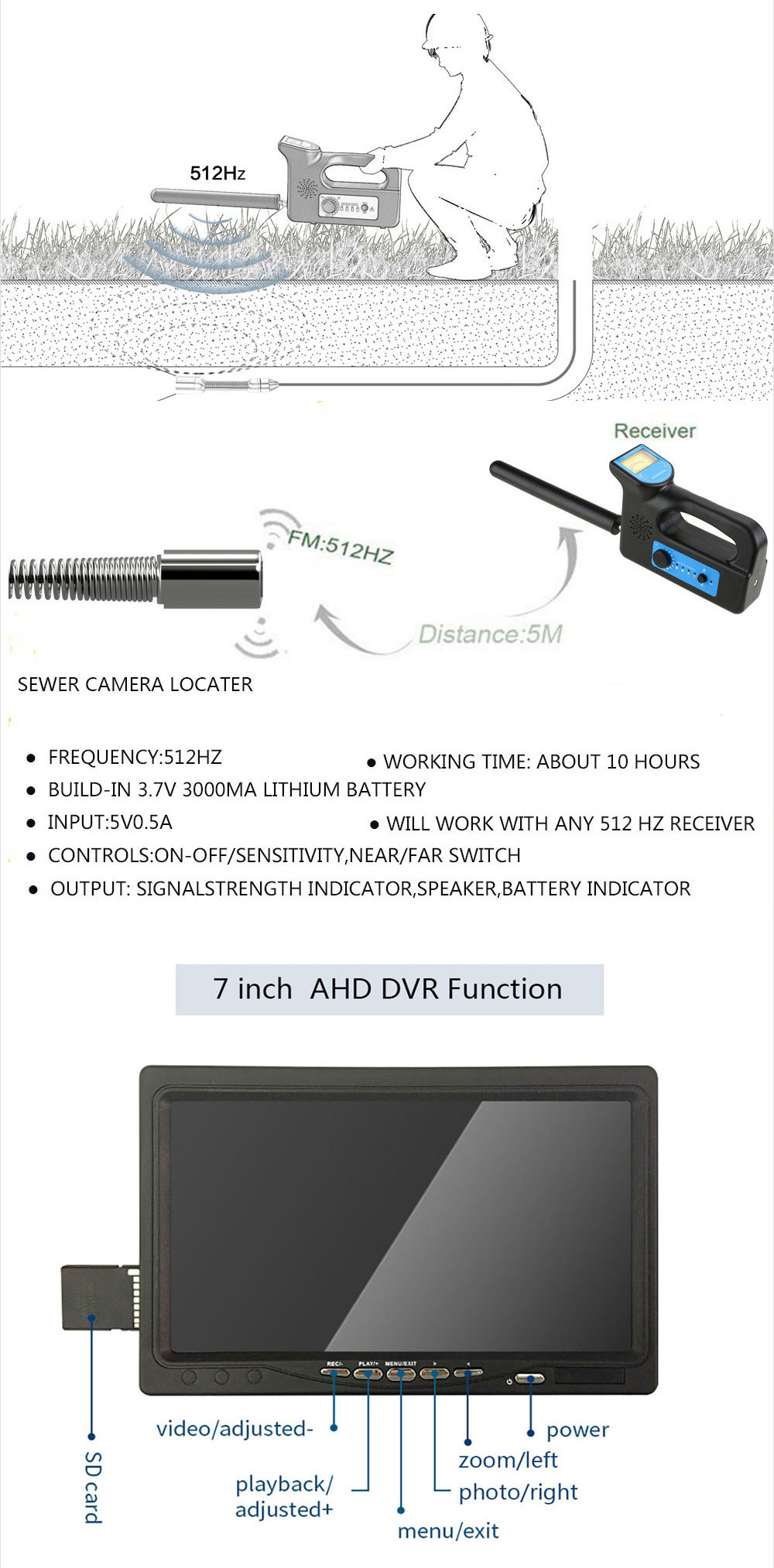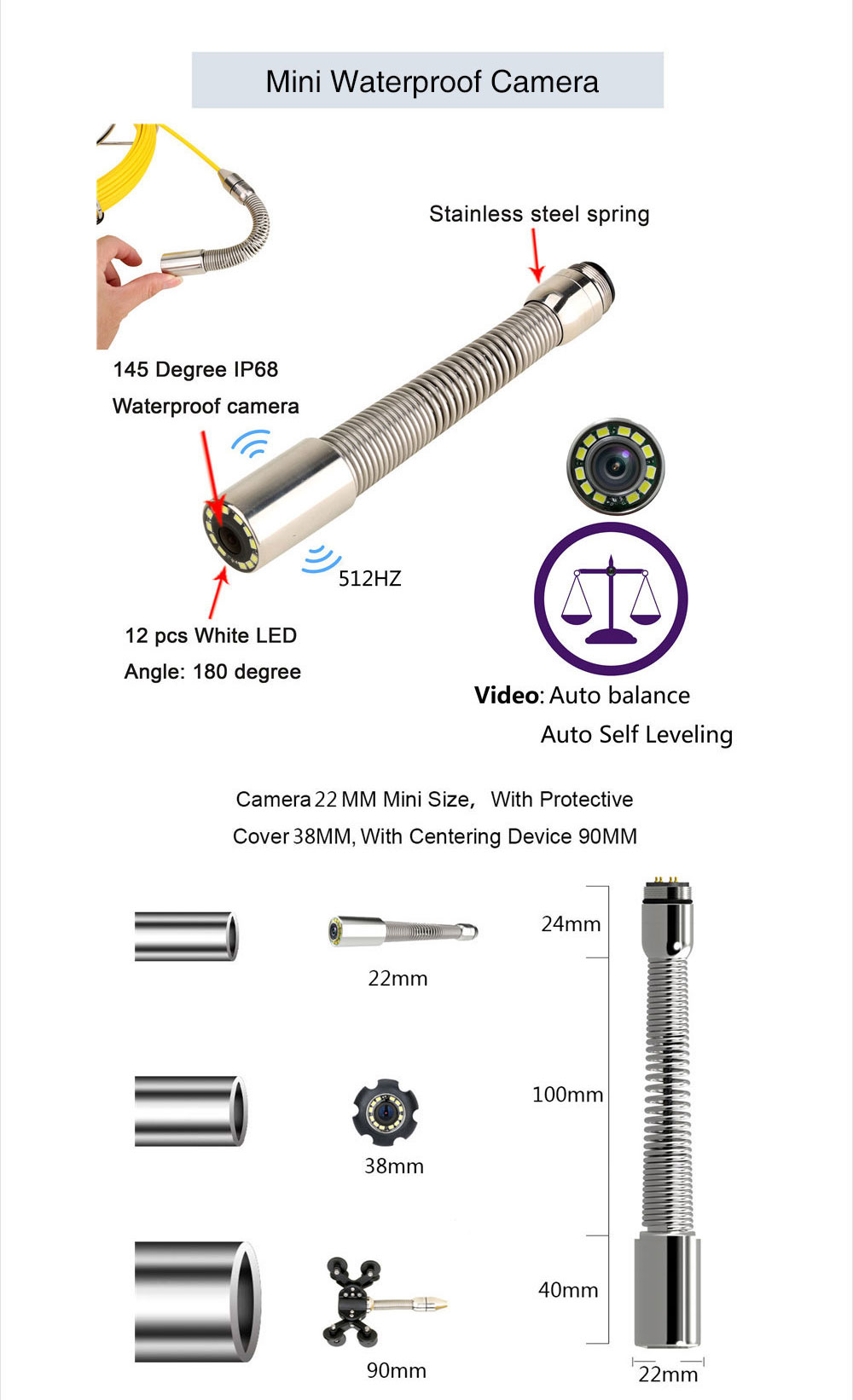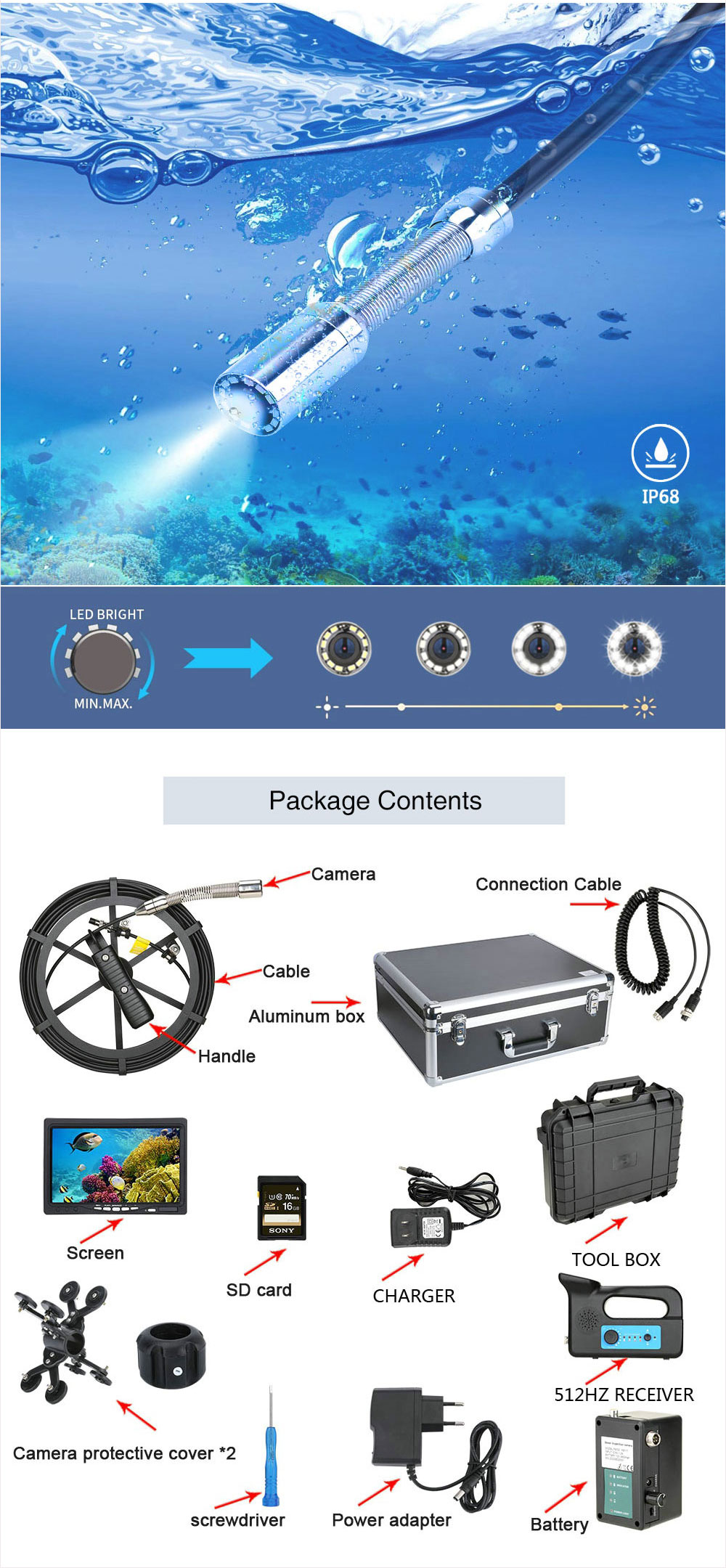 - Get a Reliable Reference Video with CCTV Pipeline Inspections
- Eliminate Unnecessary Digging and Guessing
- Easily Determine the Condition of the Pipes
- Locate a Leak or Water Break
- Process Is Fast and Simple
- Process Is Environmentally Friendly
- 512HZ TRANSMITTER: This transmitter is suitable for locating the damage place of underground pipes, air-conditioning pipes and other pipes, Video Auto balance Auto Self Leveling 512HZ Transmitter Pipe Locator.
- 512HZ Receiver:512HZ Frequency, about 5m Distance, 3.7V 3000MAH built-in lithium battery with 10 hours working time
- MONITOR & CABLE:Professional Drain Pipe/Sewer Pipeline Inspection Camera is designed with a 7 inches color IPS LCD monitor with a sun-visor for outdoor inspections.The material of wire is fiberglass rod(diameter: 4.9MM),anti-corrosion/cold/tensile.
- DVR Recording Function:Pipeline Wall Sewer Inspection Snake Camera built-in SD Card slot,16GB SD card included,it is avialiable to view live video and save video clips and photos.You can record the inspections and playback via the pipe system.(DVR Edition Video Format :MP4 Photo format :JPG)
- PORTABLE CARRY CASE & LONG BATTERY:Pipe Wall Sewer Inspection Snake Camera Kit with heavy duty padded aluminum case stores all contents, convenient to carry around. 12V 4500mAh Li-battery included supports approximate 8 hours of continuous use.